The internet world is growing rapidly so being ranked highly on search engines, is much more important than you think!
Do you want to improve your website ranking? Then working with an SEO Agency in the USA is imperative.
In this blog, we'll discuss the role of an SEO consultant or agency and how they can help to grow businesses.
Let's dive in.
What is an SEO consultant?
An SEO consultant helps to analyze and optimize SEO techniques and is paid by businesses and site owners to give them advice on how to get higher rankings, more traffic, and more profits for their websites.
What does an SEO consultant do?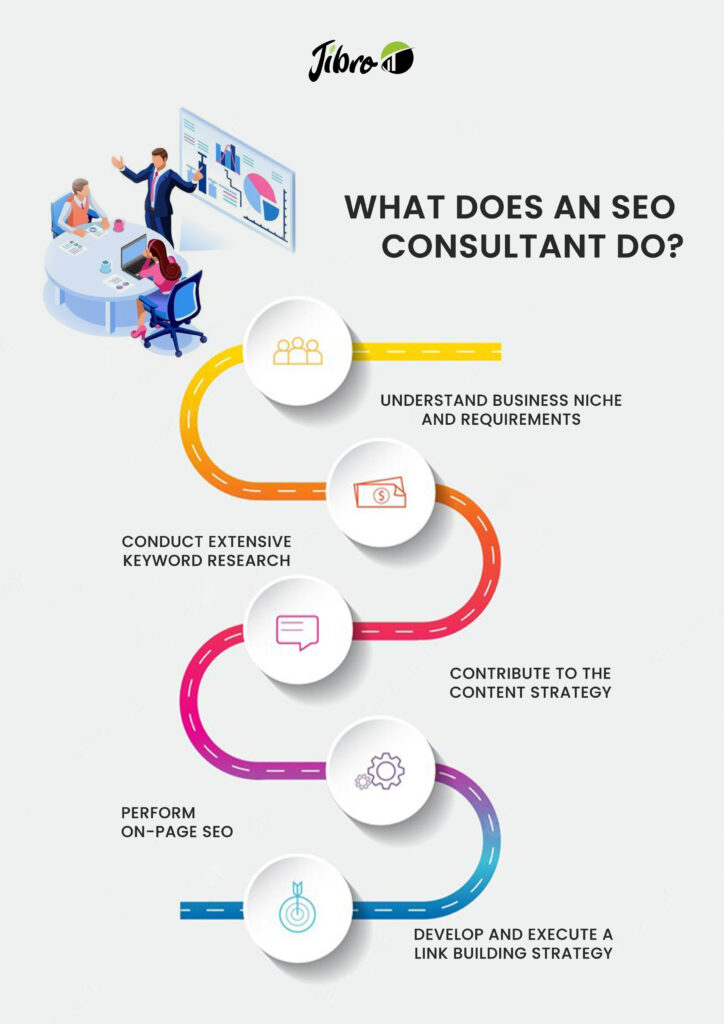 SEO consulting involves a varied range of activities that help to bring up a website's search engine rankings organically. Here are some of the points to look up.
Understand Business Niche and Requirements
First of all, a good SEO consultant will understand the business, its niche, and its strategic objectives. They will work closely with the CEO, CMO, and president to understand the business.
Conduct Extensive Keyword Research
Keyword research is an important part of an SEO job. This means identifying various terms/queries that people within the target audience of your business commonly search on Google or any other search engine. The consultant uses an SEO tool, such as Ahrefs or Semrush, to identify the most relevant and profitable keywords and then works to rank for them. The consultant looks at a bunch of different metrics, including search volume, keyword difficulty, and domain authority. SEO expert shortlists profitable keywords to map them out to the landing pages on the website.
Contribute to the Content Strategy
With the keyword list in hand, the SEO expert will work with a content marketing strategist to develop a specific content plan.
This includes:
Creating new content ideas for the website's blog
Making a calendar to ensure constant content development
Setting aside resources for guest posting (more on that later).
The consultant ensures that the content is not just optimized for keywords, but also tailored to the search intent.
This is when the SEO consultant's technical skill comes into play. On-page SEO is the process of optimizing your website for a smooth user experience. This includes technical SEO, such as:
Ensuring the source code – HTML, Javascript, and CSS files – is not damaged and that it is optimized for both mobile and desktop.
Troubleshooting issues that may be influencing site speed and page speed of individual landing pages.
Assuring all pages are mapped out to appropriate keywords
Ensure that the website has no indexing difficulties.
Considering security concerns and implementing an SSL certificate
The consultant then setups Google Analytics and Search Console to keep track of performance.
Develop and Execute a Link Building Strategy
Link Building refers to creating high-quality backlinks. Quality links are the most essential ranking factors for Google and other search engines. So, SEO consultants apply different link-building tactics like
Guest posting
Citations
Broken link building
Content outreach
Unlinked Brand mentions
Content syndication and repurposing
These are the tactics picked by experts based on the company's resources and niche.
Wrapping Up
Jibro IT is a leading SEO Consultant in the USA that helps you boost your online traffic and improve the quality of your business. And the results won't be short-term. You'll continue to reap the benefits of your SEO efforts even if you are no longer actively working on them. So, what are you up to, contact us now for more information.