Writing copy can be an intimidating prospect, but it doesn't have to be. With the right tips, tricks and techniques, anyone can take their content marketing and copywriting skills to the next level. From understanding your target audience to crafting a convincing message, discover how to successfully create content that drives results.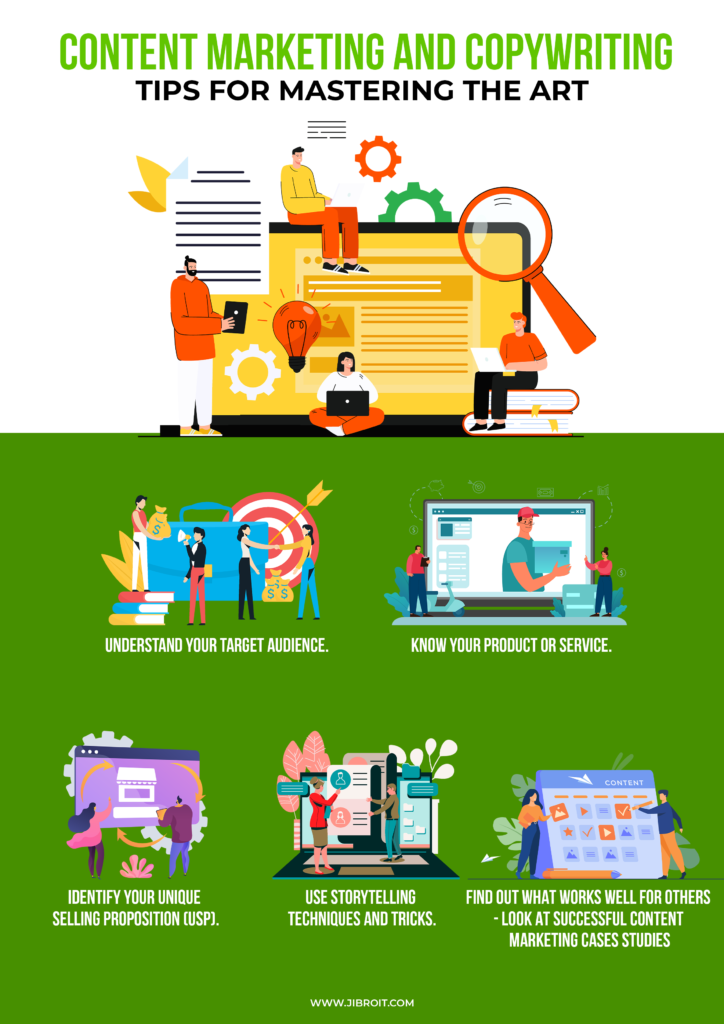 Understand Your Target Audience.
Understanding your target audience is one of the most important parts of copywriting and content marketing. You need to know who you're writing for, what their wants and needs are, and how you can plug into that. When crafting your message, ask yourself questions like 'What topics are my readers interested in reading?' 'How do they feel about this product/service?' and 'What will make them want to buy?'. By understanding these answers, you'll be able to effectively create content that speaks directly to your target audience.
Know Your Product or Service.
Before you begin writing, it's important that you have a solid understanding of the product or service that you're copywriting for. Research and study the features and benefits, impressive stats and figures, customer reviews, competitors, and anything else that could be helpful in making your content more compelling. Once you have an extensive knowledge base of the product or service in question, it will be much easier to write compelling copy.
Identify Your Unique Selling Proposition (USP).
Every copywriter should know the product's Unique Selling Proposition (USP). Identifying the USP allows you to hone in on the features and benefits that make this product an attractive option for customers. Knowing the USP gives you a great starting point for all content marketing activities, and it will be instrumental in creating powerful copy with impactful results.
Use Storytelling Techniques and Tricks.
Storytelling is an easy way to engage with your target audience, as people are often drawn to stories and appreciate being given the opportunity to connect with a brand. When writing content, use techniques that make your readers feel like they're part of the story. This could mean adding metaphors and visuals, creating suspenseful copy, or giving your customers a hero's journey. These outlets allow you to keep your content interesting and compelling to read.
Find Out What Works Well For Others – Look at Successful Content Marketing Cases Studies
If you're feeling stuck and unsure of the type of content that your target consumers will resonate with, look to other successful campaigns in your industry. Analyzing successful case studies and understanding the key elements to their success can give you a deeper insight into what content will effectively capture the imagination of your audience. Spending time looking through and reviewing different companies' approaches will give you fresh ideas, strategies, and an edge over the competition.
Are you tired of struggling with content marketing for your business? Look no further! Jibro IT is here to take the burden off your shoulders and provide you with the best content marketing services in the industry. From social media management to blog writing and everything in between, we've got you covered. Our team of experts knows what it takes to create engaging, high-quality content that will attract and retain your target audience. So, if you want to take your business to the next level, don't hesitate to contact us. Let's work together and make your content dreams a reality!