Digital marketing is an essential tool for businesses looking to generate leads and expand their audience. With the right strategies, you can reach potential customers and turn them into loyal customers. Learn how to use digital marketing to capture leads and boost your business growth today.
Identify Your Ideal Customer Profile.
The first step to generating leads through digital marketing is to identify your ideal customer profile. Think about who you want to target with your campaigns and create a detailed character sketch of them. Consider what interests they have, where they typically get their information, which social media platforms they use, and any other characteristics that will help you craft engaging messages for your audience.
Create Engaging Content for Lead Generation.
One of the most important things you can do to generate leads online is to create engaging content for your audience. This could include blog posts, videos, white papers, case studies, infographics, or any other type of content that resonates with them. Your goal should be to develop content that targets their interests and pain points, so they're more likely to convert into leads or customers. You should also optimize your content for search engines using relevant keywords and phrases.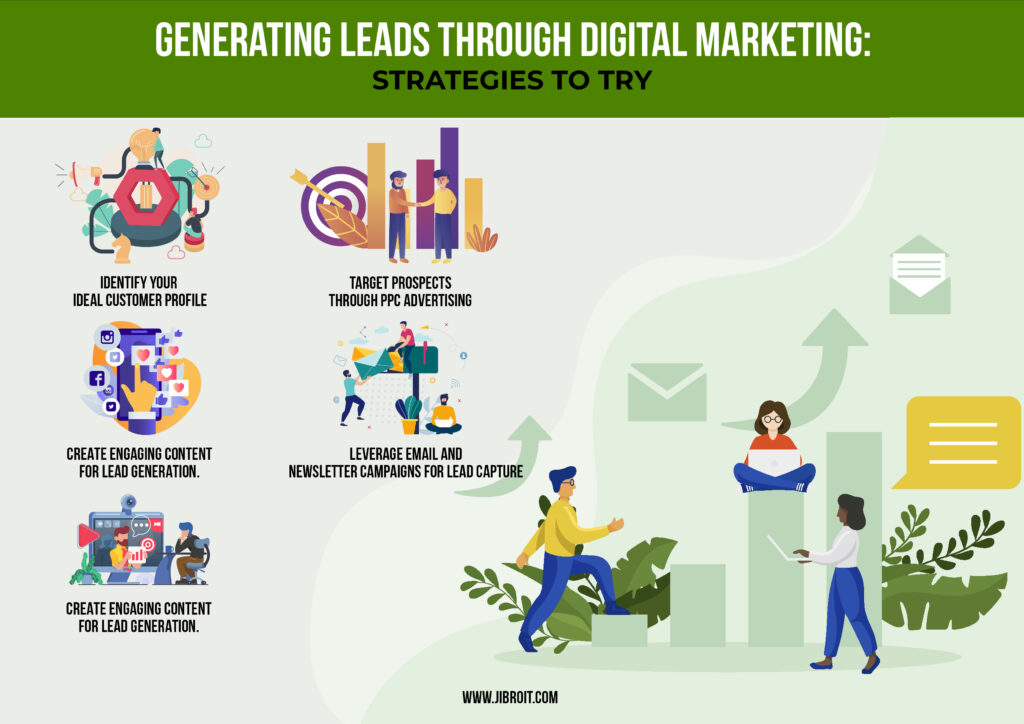 Incorporate Video Into Your Digital Marketing Strategy.
Incorporating video into your digital marketing strategy can be a great way to drive leads and capture the attention of prospects. Videos can help showcase how your product or service works, demonstrate customer benefits and provide helpful information. It's important to remember that you should use both organic and paid methods when creating videos for lead generation. You should post your videos on social media platforms like YouTube, and utilize targeted ads on networks like Google Ads to further optimize lead generation.
Target Prospects Through PPC Advertising.
Pay-per-click (PPC) advertising is a powerful high ROI strategy that can be used to target prospects online. Through Google Ads, marketers can create targeted campaigns to reach potential customers. PPC ads provide the ability to precisely target users by location, demographics, interests, and keywords. When done correctly, PPC marketing can help drive qualified leads that are likely to convert into sales.
Leverage Email and Newsletter Campaigns for Lead Capture.
Email and newsletter campaigns can be used to capture leads and direct them to specific landing pages. To ensure success, make sure your content is relevant, actionable, and offers value to the reader. You want your audiences to stay engaged with interesting topics that get them interested in learning more about what you have to offer. Incorporate calls-to-action (CTAs) in your email or newsletter campaigns to steer customers so they can easily access special deals or promotions.